Let's talk for a while with Bruno, also known as Brunetto, whose Humanity EP is being released in Sincopat these days. Bruno likes everything: from The Chemical Brothers, to the paella, to the football of his Sevilla FC. Although it has to be said that Valencia is better this year… How does a guy from Sevilla end up in Barcelona?
First of all, I will try not to chat too much, just enough. No more, no less. Neither, nor… I'm starting! You mean to say how a Sevilla FC fan ends in Barcelona? Well, I've been sent by Monchi back in October 2006 to see if I managed to sign Messi hahaha now seriously, after a lot of years in the front line of the 'less complexed' electronica scene in my Andalusian land – fantastic times has to be said, for me the decade of the 90s is still a magical episode in the essence of my life, at least to be what I am today, that passion so fat I have for music – I decided to take a step forward and go up. I needed to evolve, and Barcelona had already been there, I used to go up to buy vinyl, I played regularly… Its people, its culture, always attracted me. On the other hand, I also felt the need to stop being a night bat, without detaching myself from my passion, to detach myself from the night to work more during the day. The darkness of four clubs a week by the light of an office surrounded by plants, magazines and records. I started as press officer in Decoder Muzique, from then on I did not stop growing in this sense. I worked later for Spinner / AOL, and I started collaborating for magazines like Go!, lamilk… Today I work for Clubbingspain, DJ MAG, OCIMAG, SMD MAG, and I am responsible for communication of Miracle MGMT & Freelastica (my own pr agency). I did get it! I even finally got a pretty and proper girlfriend! So glad for this!
When does Bruno Garca decide that he wants to dedicate himself to music? Was he first DJ or producer?
Neither one thing nor the other. The first thing I did was go for the booths rapping under the BR1 MC pseudonym. I used to be part of turntables shows, I even went with the winners in Spain of the DMC World Championships. I did it for five thousand pesetas, a hamburger and the occasional chocolate shake. At the same time I was doing radio. I had my own programs like 'Hablando de Ritmo' or collaborated for the Cadena Ser / los 40P in 'La noche se mueve' with Adolfo Chacón and Cadena 100 'Fuerza 100' with JD Periañez. Then yes, the first thing I did was to play records. The great step I gave was to play at the closing of the Expo'92. It was from 1994 that I already made room by playing on macro-parties… that also being a resident in clubs like the J3, Fun Club or Bauhaus. In the late 90's is when I finally started to produce seriously, belonged to the band Bockors where he was the MC at the same time as the beatmaker. We lived great years, opening up – not just part of a line up – to people like The Prodigy, The Chemical Brothers, Junkie XL, Lunatic Calm, etc. We released the LP "Free Rebel Sound" via Totem Tanz, and another one was recorded for the German label Edel Music, "Apoyo Nocturno", but it stayed in the pipeline. Well, in the studio of Malaga 'Inverosímiles Recordings'! Then the band split up and all of the members went their separate ways. A pity, but on the other hand, it was when I got my great love with knobs, pads and buttons: my always beloved Roland SP-808 machine! Thanks to this groove sampler I started to compose seriously and alone as Brunetto. I released the album "Déjalo Así Bru", then "Homeself", "B +" and finally "Sheroine" (this one back in 2014). I love playing others music, but composing my own sounds in the studio too. But the truth is that right now I feel very comfy with my daytime job. Without the stress of the night, the trips full of hurries and setbacks, whole days without resting…
When Bruno Garca decides he wants to be Brunetto?
If we mark an exact date, I would say that since 1994, that man you named mutated in Brunetto. First, and in case it was not completely clear, as a DJ. Then and since 2001 as a musician. Besides that BR1 MC I mentioned before, I had another artistic nickname, and it was BlandiBru, I used it at least for five years while I interspersed my more danceable side with more atmospheric, trip hop or neo-jazz sounds.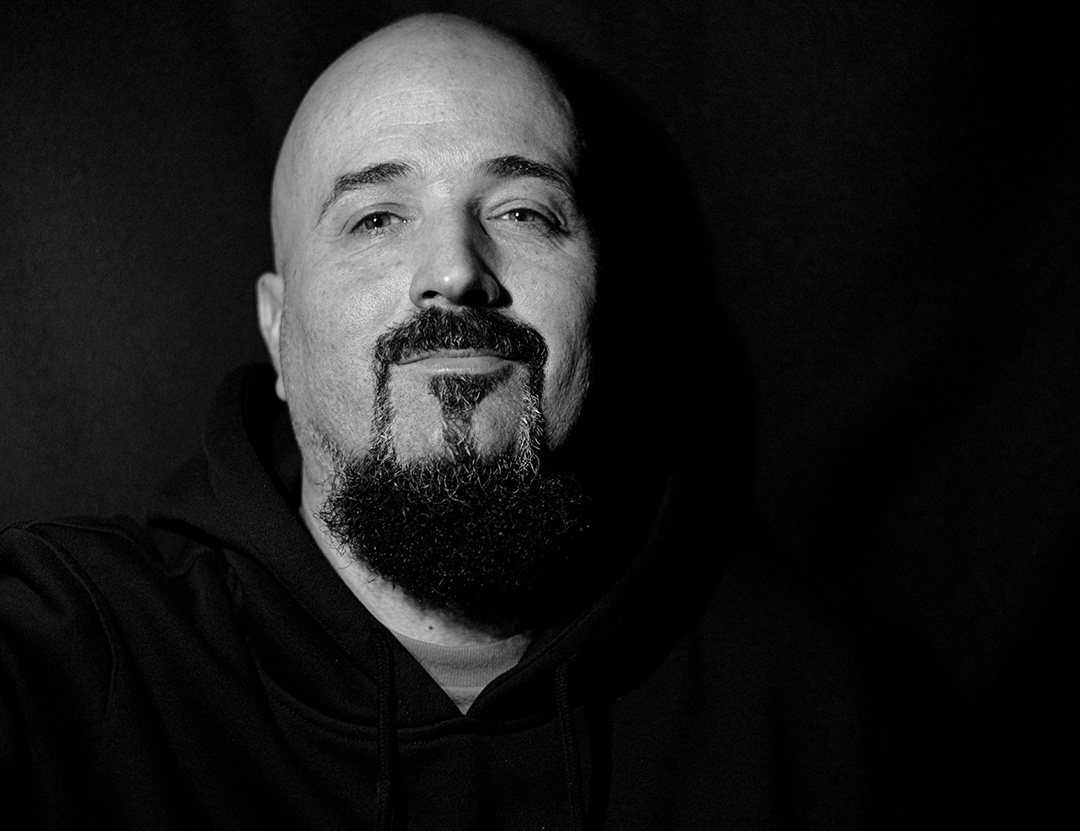 How would you define Brunetto's music? What influences does it have?
The million dollar question. Of the million influences, let's go. I have them of all types and colours. I love to soak up everything that attracts me. Closing doors I think it is a mistake, although not a sin. In general my music has always been sincere. I have loved to experiment, especially with the mutability of the beats (broken if possible). I have always been characterized by having a dark touch – almost gloomy at times – but with light pinching and textures. Musical matters that have influenced me always have been the cinematographic (I love the soundtracks of science fiction and horror!), the atmospheric things. Genres that have perverted me in the good sense: trip hop, drum'n'bass / ragga jungle, ambient, techno, industrial, electronic rock, rap 80's and even the neo soul. So come on, we add to that that I love 'classical' music and composers like Claude Debussy, Isao Tomita, Erik Satie, Vangelis, Badalamenti… Right now I love what 'composers of our time' do, just to name a few: Jon Hopkins, Clark, Lusine, Ben Frost, Apparat, Robert Del Naja or James Lavelle.
OK, we see that you are a very busy man, and that Freelastica takes up a lot of your time. How do you get some time to lock in the recording studio?
Well, honouring the other agency for which I also work since March 2010 – Miracle MGMT- I take it as if it were a miracle. I barely have time available to lock myself in the studio as I liked and used to do before. This is, without any premise, just plugged the machines and I began to create 'skeletons', bases, sampled, experimented and then covered everything with layers, synthetic textures. I played without looking at the clock for a moment. I forgot even the meals. Now that is an absolute utopia. When I have a couple of free hours (usually on a Friday or on a Sunday night) I sit down and try to be as productive as possible. It is a pressure I detest, a lot, but for the moment it is what it is, to solve the work -above all, the timings- in record time. Well, most of the tools are already familiar, and that creating original pieces or remixing songs is still something enriching and exciting. One of these days I will turn the tables, I am not ruling that out. And after this cycle so sacrificed to communication and press, I veered towards a terrain such as music documentaries (something I've already done) and my big dream, cinema. I have a new project, in fact it is still developing in the womb that will go in this direction: Wolf and Amadeus.
Let's talk about Humanity. How did the idea arise? Why did you think of Bearoid for the voices?
Well precisely the origin of the theme came out from what supposedly should have been the first song as Wolf and Amadeus. And in fact it was not titled like that, but "Permanent Muses". It was a production that I started to work on it by the end of 2016, and it was created to be only instrumental. Atmospheric and cinematic pads, IDM, synthesizers, smoke and less dirty rhythms than I always distilled, even abusing 'Made in Roland' percussions interspersed with Japanese Taiko kind. In a couple of years, and after playing it a couple of times live, working on it several times in the studio while imbibing it, I got to the 'Humanity' that you all know now. Before reaching the final version, I got a firefly on my head and it was to dare to record with Bearoid. From the first moment I heard it, it fascinated me. I helped him with the press of his "Dawn At Home EP" (Champagne Records, 2015). Then in person he is great, very smart, hardworking and with a great sense of humour. We connected quickly. The challenge was to have his vocal warmth among my dark and emotional musical textures. I am very happy with how the daring, the experiment, was worth waiting for and this song was cooked slowly. It has been released when it had to, and by the label it had to be released.
You release by a good Valencian label, but have you tasted paella yet?
Really? The truth is that Sincopat is a huge label. It is a pleasure to share a trip with people like Piek, Darlyn Vlys, the capo AFFKT, etc. Once said that, to your question: I have tasted paellas in all shapes and colours, even some on them very tasty and having a great picnic time at the mountains, but not 'La Paella'. I hope to do it very soon, and of course in Valencian lands. Thank you Sincopat for inviting me to make this happen, because, did you just invite me, right? 🙂
https://www.sincopat.com/wp-content/uploads/2018/04/brunetto-2018_low.jpg
749
1080
admin
https://www.sincopat.com/wp-content/uploads/2017/12/logo_cabecera-300x138.png
admin
2018-04-06 06:12:26
2018-04-06 06:15:08
Brunetto: "My music has always been sincere"